Photo #20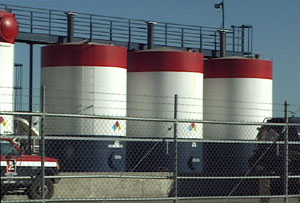 This facility illustrates some of the problems with overlapping federal regulations. This facility handles and recycles hazardous wastes. Hazardous wastes are not governed by EPCRA, and the facility would not have to report the tanks of wastes under EPCRA. Hazardous waste disposal and recycling facilities are instead governed by RCRA, but RCRA also requires a facility emergency plan.

But this facility also "recovers" some used, dirty, solvents and sells these recycled solvents back to industry once the solvents are "cleaned" and purified to industrial grade. (This is considered a good thing because less solvents have to be created somewhere else.) By distilling the old, dirty, solvents and producing the "clean" solvents, the facility creates a fresh chemical, a solvent just like a regular solvent manufacturers would sell, and OSHA requires that the facility prepare an MSDS for these manufactured solvents. But a facility that manufactures solvents must report under EPCRA.

The facility probably has to prepare a facility emergency plan under RCRA, and should report under EPCRA for its solvents if the amount on-site reached the RQ, Reportable Quantity, of the solvent. The BOLDER Project has the answer for these types of regulatory redundancies. Instead of having separate emergency plans, the BOLDER Project allows this facility to prepare just one emergency plan that integrates the information throughout the facility into one emergency plan. Great idea.

Note the fire diamonds on the tanks and the colors that make the tanks aesthetically pleasing.